Group Show - 'Outside / In, 2020'

17th September - 4th October 2020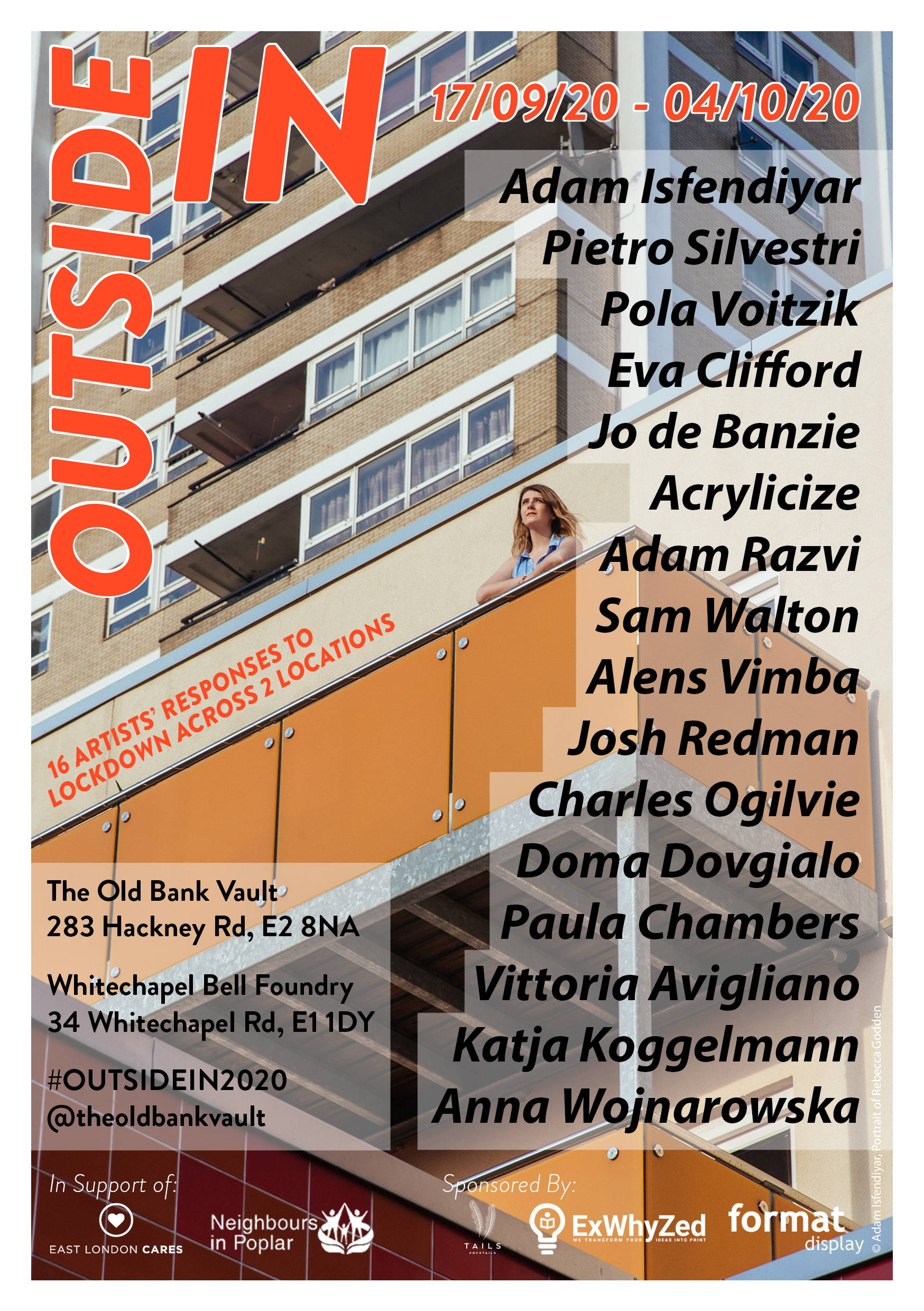 The Old Bank Vault presents the first physical exhibition of artwork created during and in response to, the COVID-19 Pandemic of 2020. Profits from the show will be donated to: Neighbours In Poplar and East London Cares.
OUTSIDE IN, 2020 – Curated by Sim Takhar, Adam Isfendiyar, Zulfqar Ali and Maria-Domenica Arcuri.
The Covid-19 pandemic paused our daily routines and affected every aspect of our lives and mental health. It exiled us from the outside space, the city, culture and the arts, our families and friends, and the potential for travel and escape. Much was moved online which created further problems of confinement and isolation inside our homes. In this difficult and unusual time, art in all its forms has become a coping mechanism for some and a necessity for others in responding to the crisis. Creating beauty as an antidote, an antibody to the new rules, a virtual space to escape. More than ever before, technology and social media have had a pivotal role in overcoming distance and separateness.
Outside In brings together new work created during lockdown from UK resident artists that have developed as a response to the constraints of the current global crisis . Through video installations, postcards, sculptures and experiences; the exhibition is a journey through creativity. Moving from the cinematic ghastliness and haunting shadows of the almost empty streets of central London in a suspended state of melancholy by film maker Pietro Silvestri; to being invited to peer into the private, inside spaces of flats, from the outside with Adam Isfendiyar's portraits; via the approximations of 2 metres distance from artist Sam Walton. All of these works highlight a feeling of isolation and connection through these shared experiences.
As a way to document this unprecedented time, the exhibition will also create a new space where visitors are able to share their feelings and experiences of lockdown and become a part of the art, connecting strangers and creating a collective memory.
Taking over two sites, The Old Bank Vault and the Whitechapel Bell Foundry, Outside In features work by Adam Isfendiyar, Pietro Silvestri, Katja Koggelmann, Eva Clifford, Sam Walton, Doma Dovgialo, Pola Voitzik, Adam Ravzi, Vittoria Avigliano, Alens Vimba, Charles Ogilvie, Paula Chambers, Josh Redman, Acrylicize and Jo de Banzie.