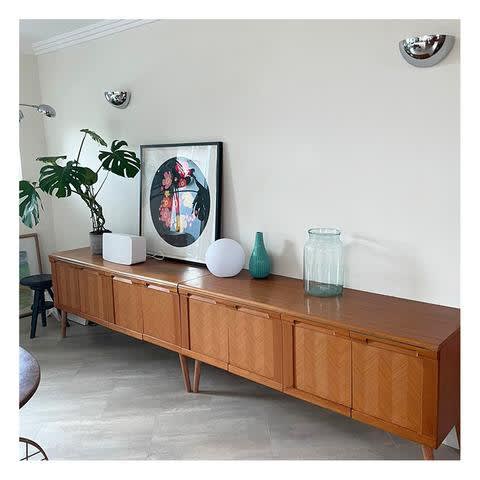 One of the things we love most about being located in the East End is the sense of community that seems not to exist in quite the same way anywhere else in London. Refusing to allow the pandemic to keep us away from our fellow east Enders, we've managed to set up a few zoom chinwags with some of our local creatives.
As part of our ongoing East End Creates series, we were keen to produce a special series specifically in response to International Women's Day. So, we've been thinking hard about what this month actually means to us. Certainly, as we look back, we can see our ancestor's vision for an equal future comes into clear view. As they passed down a brighter future for us, we wanted to continue the tradition in our 'Mumma Told Me' interview series, by asking; what will you pass on?
In a series of talks with some of our local female entrepreneurs, we wanted to hear just that whilst getting the inside scoop on what we imagine is a very glamorous and exciting life. Where else best to start than with Ruth Vout, founder of Columbia Road's 'Vout Vintage'- the new vintage boutique reinvigorating a tired image of 'second-hand' by carefully sourcing and curating unique and versatile pieces you never knew you needed.
TOBV: To begin with, why did you decide to create Vout Vintage?
RV: I was going through a difficult time in my life personally after my sister passed away. Unsatisfied with my work life balance and feeling like I was just surviving in a stressful job, I took control of my life and quit as Design Manager for a large Retailer and took a year out. The idea came to me that more people wanted to shop sustainably and buy Vintage and Pre-loved, however I wanted to use my skills from working in fashion and make it aspirational and curated so "everyone can buy Vintage" and bring the clothes a new lease of life to modern day.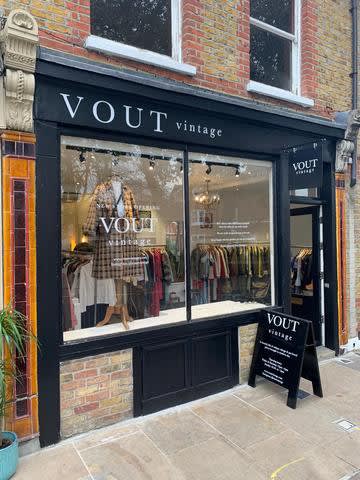 Vout Vintage on Columbia Road
TOBV: If you care to share, what particular moments during your career were really eye-opening for you when it came to noticing the issues with fast-fashion?
RV: I started to be very aware there was a decline in growth from many large UK retailers and struggling as a consumer as to where to shop. Who did I want to spend my money with? I began to research vintage and fast-fashion reading articles about the growth of Depop and Threadup. There was an article that quoted GlobalData Market projects the Secondhand Market to grow from $28B to $64B worldwide in the Next 5 Years with Resale and Vintage expected to overtake fast-fashion retail. Covid I believe has since accelerated this new era of shopping ethically and sustainably.
TOBV: How would you define your personal style? Is Vout Vintage's any different?
RV: My Style is very similar to Vout Vintage. I love beautifully made clothes and have a small twist that makes them unique but very wearable and versatile without trying too hard. When I am sourcing and hand-picking each piece I really focus on great fit, fabric and make. Every piece I love and would love to wear always sells very quickly. It's really hard sometimes to sell a piece I love but knowing it has brought so much joy to that person makes me so happy.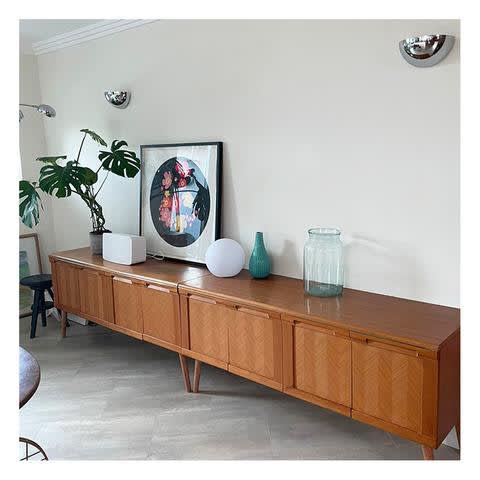 Heath Kane's 'Wallflowers' featuring in Ruth Vout's home.
TOBV: We feel the same about our art… in fact, we're pleased to see our Heath Kane 'Wallflowers' taking pride of place in your home! Would you consider yourself a collector of art? What kind of works are you most attracted to?
RV: I feel I am becoming a collector of art. I grew up in a very creative and artistic home. My dad was a beautiful painter and we used to paint together so art has always been very prominent in my life. I have his work in my store on Columbia Road along with a painting of my sister which is very important to me. I also have paintings by Paul Anderson Morrow and illustrator Laura Quick. I want pieces that I will cherish however and have meaning to that point of time in my life. Sim was amazing at The Old Bank Vault who helped me find "Wallflowers" by Heath Kane, which signifies a new stage in my life and has great personal meaning. I love it so much and can't wait to go back in and find something new.
TOBV: Considering its international women's day, today, we're getting slightly nostalgic on the women in our lives and what they've passed on to us. With this in mind, what do you think your mother has given to you? (whether that's specific behaviours, lessons learned, or even the well-loved clothes they can't bear to part with!)
RV: I'm very close to my Mum, she is an incredibly strong and caring woman. When life can be hard she taught me to rise up above it and live your best life. She recently recovered from cancer and her treatment impaired her walking. I could see she was in so much pain however she just fought through it with minimal complaints, using all her strength and determination to keep going and doing what she enjoys which is enjoying nature and walking. She is now able to go for 3 mile walks due to her perseverance. She knows how to enjoy life with the small things like good wine with great friends and not to over think when things don't go your way. She took me to art galleries as a young girl and passed down her love for art and supporting me with my career in art and design. She is the best thrifter around. She has always shopped ethically and sustainably and passed down that love to me.
TOBV: That's really beautiful. What do you think you'll pass down?
RV: I hope I will pass down the same philosophy from my mum to my gorgeous twins Bruno and Grace. Life is about living and creating great memories. Believing in yourself and manifesting your dreams.
TOBV: Couldn't have said it better! So on a final note, what are you looking forward to when we finally get out of lockdown?
RV: Seeing my mum and my family, having friends over for dinner so I can finally have a housewarming party. I have already booked 3 festivals and can't wait to dance with a big smile on my face. Looking at booking a trip to Ibiza where my gorgeous friend lives. I love the island so much, kits where I can paddleboard, swim and drink ice cold cana on the beach. Might even incorporate a Vout Vintage Styling shoot there! Always working :-)