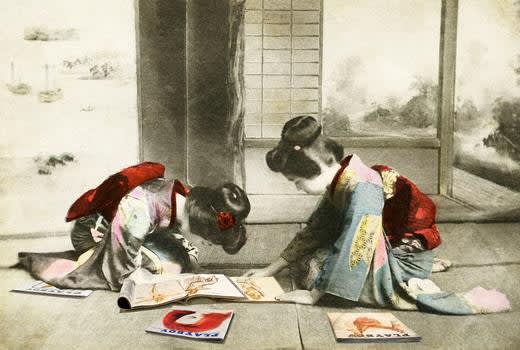 Lockdown 3 may have forced us closed but for the past few weeks we have had a 'street level' display of 'master of mixing' Gavin Mitchell's East meets West perfectly juxtaposed Geisha's along side some other works never before seen at The Old Bank vault.
With no where to go we sat down with Gavin for a glass of wine (screen to screen) and caught up on what inspires him, how he developed his style, and what he is currently reading!
TOBV: How did you get to the style that we see today?
GM: Hannah Höch a German dada artist was one of the first to experiment with photomontage. She sums up the creative process of collage and assemblage art…
… we must be prepared for a journey of discovery, we must start without any preconceptions; most of all we must be open to the beauties of fortuity.
I like to employ different mediums and explore different techniques in an effort to create original and thought provoking works of art.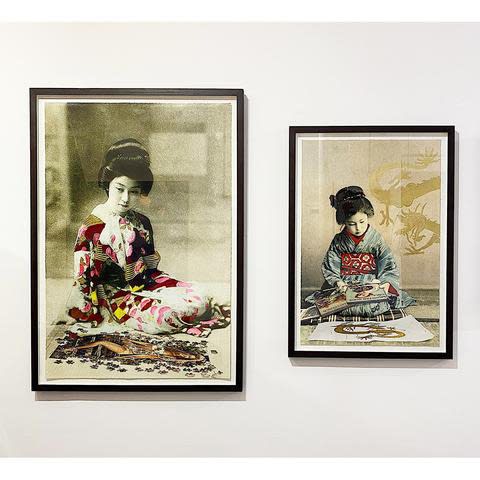 Left: Miss June, 2020. Right: Monster Book For Girls, 2018.
TOBV: It's clear that cultural dualism is an informative theme for your artwork. How do you view western culture in this context? Is it negative or simply different in relation to Eastern culture?
GM: I actually think the cultures are intrinsically linked which is what makes the dualism all the more interesting. Western cultures tend to be more liberal on the surface but deeply conservative underneath. Eastern culture and in particular Japanese culture for me is the polar opposite. What fascinates me is that Japan appears to have similar values to Victorian England. Outwardly suppressed emotions that seem to produce a subversive subculture such as dark anime and manga. In the case of the Victorians the subculture was gothic literature.
TOBV: How do you see yourself in relation to your work? Do you relate any of your own experiences to the pieces you create?
GM: A close Japanese friend of mine pointed out once that whilst I may try to understand Japanese culture I will never fully appreciate it as I can only ever view it from a western perspective. The same goes for them in terms of Western culture. They are right, but I love the challenge of trying to unravel the enigma.
I think it is important not to take yourself too seriously though when the question of cultural appropriation is involved which is why I try introduce humour to the narrative.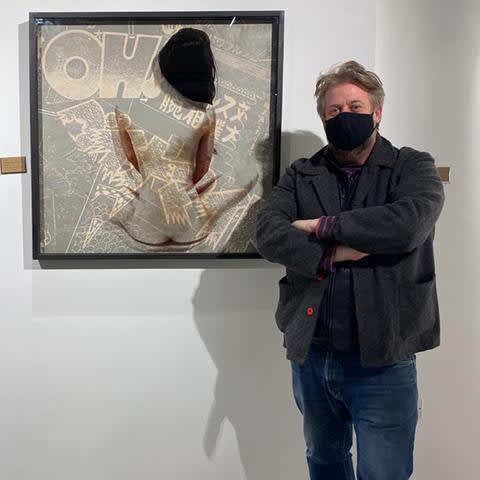 TOBV: Whose artwork do you have on your own walls?
GM: I have always collected work by other contemporary artists most of whom I know or am familiar with. The advantage of being immersed in the art world is having access to so much fresh and innovative work.
Recently I have started collecting original prints of the street posters from the student riots in Paris 1968. A treat to myself when I can afford them.
TOBV: On that note, which artists have you been most inspired by?
GM: From the beginning even as an A level art student I was always blown away by Marcel Duchamp and Man Ray. The experimentation and multi layered approach to everything they produced has been my biggest inspiration and probably why I continue to explore my art through mixed media.
Other more contemporary mixed media artists that have had an impact on me are Robert Rauschenburg, Sigmar Polke, John Baldesseri and Andy Warhol.
TOBV: What does an average day look like for you?
GM: Sunny side up
TOBV: And lastly, have you been reading anything interesting of late? We'd love to hear some of your top picks for The Old Bank Vault's book club!
GM: Unless I'm on holiday I listen to audiobooks in the studio.. When you're concentrating on work it's amazing how immersive it becomes.
Probably no surprise to hear that I am a big fan of Haruki Murakami. Magic realism definitely has an influence on my work. 'The Wind-Up Bird Chronicle' and 'Kafka on the Shore' were easily two of the best novels I've ever read.
Haruki Murakami: 'The Wind-Up Bird Chronicle'
I also like American contemporary literature and there are a couple of stand out books I've listened to recently. 'The Vanishing Half' by Brit Bennet and 'American Dirt' by Jeanine Cummins.
If you want a sobering book to put your life into perspective I suggest you listen to/read 'The Return' by Hisham Matar, A personal story of life and politics during and after Gaddafi, Utterly absorbing.
Seen a piece you are interested in? Drop us a line at sales@theoldbankvault.com