One of the things we loved most about being located in the East End is the sense of community that seems not to exist in quite the same way anywhere else in London. We often chat to our neighbours, passers by, and pre-pandemic, invited people to enjoy a cup of Rosie Lee or a King Leer in the gallery.
We haven't allowed the pandemic to keep us away from our fellow east enders. Whilst we may not have been able to chat face to face we have enjoyed many a chinwag over zoom with the local creatives to keep you and ourselves in the loop of what they've been up to!
We enjoyed catching up with Sophie Powell, head of school at McQueens Flower School and founder of Laundrette Studio. Read on to her about what Sophie's been up to in the pandemic and what its like to work at one of the most beautiful flower outlets we did ever see!
TOBV: You are head of school at McQueens, how long have you been doing that and what's your favourite thing about teaching?
SP: I have worked for McQueens for 8 years now and I have been in the school for 4 years which is absolutely wonderful as I get to share all my knowledge and experiences with others. I worked in schools before I got into floristry helping out in the Art Department whilst studying Art at University and also my PGCE, so moving into the school was a great way to combine passions.
Being in a busy classroom surrounded with colour and great energy is just one of the best feelings, it doesn't feel like work it feels like an adventure that I go on with every student. I feel so privileged to be there when they achieve amazing things!
TOBV: To begin with, how did you get into installation art?
SP: From a young age I was always into making 'big stuff', even when I try to make small delicate things it never works out so it just seems to be a thing in me to 'go big or go home' lol..... I love having work on display as I get a real buzz from it, I often can't sleep before a big lesson or installation, it's just so much fun! I am in my happy place when I make an installation, for me it is a real high and it makes me feel alive.
Thinking back to my art school days I was always encouraged to not be limited by fear of what others think and I really think that helps to just go for it especially with Installation work, like any art, what is inside is projected to the outside and that can be tough sometimes but it is also a process that is a form of escapism for me.
AND of course Jeff Koons... when I first saw his work I was taken to a magical world where I wanted to live!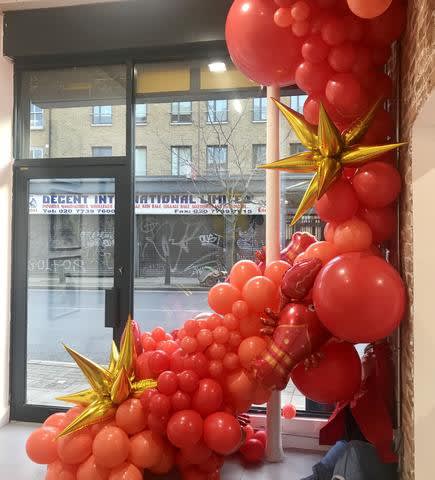 TOBV: Are you from London? If not, what brought you here?
SP: I am originally from Kent so not that far, I would spend every penny I had coming to London for music gigs at least 3 times a week and I just loved the alternative scene as I felt accepted and part of something full of energy. At that time I was working in a couple of tattoo shops and also working as a runner and prop maker for Nickelodeon TV, but I moved to Reading to be with my family that had moved there which was where I learnt balloons as I found a job in a crazy party shop. I moved to London to be with my brother who has lived here for many years and he actually bought a day class to learn flower bouquets for me for my birthday, and it was from there where I pursued a career in flowers! 11 years later I think I am doing ok! LOL. Because of lockdown and not being able to be around flowers I thought 'let's dust off the old balloons and spread some bold magic around!
TOBV: What are some of the past projects that stand out to you?
SP: I have been really lucky to be involved in many different exciting projects, but for me the most special one was for a party at the Venice Biennale. My partner and I floated along the canals on a boat to deliver the flowers and it was the most magical experience!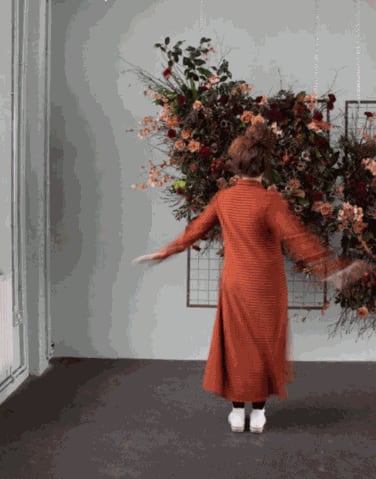 TOBV: What's your favourite thing about your line of work?
SP: Working with flowers and balloons is not permanent... they have a very short life span and that makes them even more special. The fact that we have just a moment with them makes me appreciate them even more. Cherishing a short life is really beautiful.
TOBV: We're all pretty hyped for the end of lockdown, what do you think will be the first thing you'll do when we're out of it?
I miss having a Friday afternoon beer in a busy pub! I really do, the sound of people laughing and joking seems like a distant memory and I can't wait to hear it again! So I think the first thing will be heading to our local getting a pint and a packet of peanuts and sitting there watching people... CANNOT WAIT!!!
TOBV: Lastly, for all of us bored in lockdown, do you have any book or podcast recommendations?
SP: So it's a random one, but I follow 'Nats What I Reckon' on Instagram and he is a complete legend... I am a terrible cook and actually I hate cooking but this guy has provided so much entertainment for me over lockdown and he has just released a cookbook, so I'd recommend this for a bit of an alternative for your kitchen bookshelf.
Follow Sophie's Instagram, Laundrette Studio, to stay up to date with her projects or to get in touch with her for any further enquiries.