In anticipation of her upcoming exhibition opening on the 10th September, 'The Travel Diaries', we speak with Amy Fleuriot-Reade to hear more about her practice.
TOBV: For people not familiar with your work, could you tell us a little about your practice?
AFR: Drawing has always been the foundation of what I do. I like to make observations then kind of collage together compositions, literally cutting and pasting different ideas into the mix before tracing off the final scene onto heavy cotton paper ready to stretch then paint. I started off adding colour to my drawings with pen, which I love for the immediacy and intense shades you can get but lately I have been experimenting more with watercolour which I'm finding can also be really bold and produce very fine detail. I design a lot of textiles so I love patterns and the techniques of applying it to fabric. Through this I have learnt how to get a lot out of a limited colour palette which I really enjoy the challenge of. My paintings sometimes make me think of the wood block printed textiles I work with in India and I'm enjoying seeing where this might go.
TOBV: How do you feel your work has evolved since you first started your career as an artist?
AFR: I'm definitely more conscious of my surroundings now. My inspiration often comes from my travels and over the years I have started to keep my travel diaries in a more conscious way, setting time aside to sketch, create colour palettes from a place and press leaves and petals from any unusual plants that catch my eye. All this information then gets used to create new compositions when I am back in my studio. I have also been working hard on developing my style in watercolour. Not only does it mean I can travel a lot lighter with one small palette rather than several dozen pens, it also means my finished work is archival quality and I'm becoming more interested in producing original pieces in addition to prints.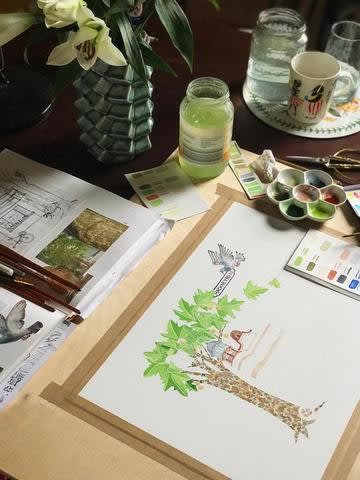 A RECENT PIECE AMY CREATED OF OUR VERY OWN HACKNEY ROAD.
TOBV: What does a typical day look like for you?
AFR: We've had a glorious Summer in Margate so I usually start my day by walking down to the local tidal pool with my dog Hiro and meeting with friends for a morning swim. After breakfast I'll head down to my shop Artisans & Adventurers which I run with my business partner, Bee. Every day is different but my main role is the designing so I will be working on new prints for our textiles or wax carving jewellery designs alongside creating imagery for our social media channels and website. I'm really lucky that my husband loves cooking so in the evenings I'll come home and go straight to my little home studio and start painting or looking back over my diaries for inspiration for new pieces.
AMY'S DOG HIRO FEATURED NEAR HER LOCAL TIDAL POOL.
TOBV: So you live and work in Margate, how would you say this coastal area influences your work? And do you have any hotspots to visit for when you're not painting?
AFR: Margate has given me the physical and mental space to create and I owe so much to my move here four years ago. Aside from the beautiful sunsets, architecture and colourful characters you see, I think that the biggest influence on my work since making the move has been to finally have my own garden. When I'm not painting I'm gardening and when I'm not gardening I'm thinking about what to plant next or drawing what's growing. This was especially important to me during lockdown when my garden became a sanctuary and a place for imaginary adventures - Freddy would cook up a Lebonese Mezze and we'd sit under the branches of our fig tree with the chimenea lit and fresh mint tea from my herb patch and be transported. Now things have reopened, we are absolutely spoilt for places to go to. My favourite restaurant is Bottega Caruso, everything is made fresh and sitting out in the square enjoying a bowl of pasta and a campari spritz you could literally be in Italy. Before all of the theatres closed we used to love going to The Tom Thumb, it's Europe's tiniest theatre but they get some fantastic musicians and performers and also have a really cosy bar serving up delicious cocktails. Sara and Alex who own the theatre are really passionate about what they do and it's such an inclusive creative space to be in, somewhere you'll always get chatting to an interesting stranger at the bar. I can't wait for them to reopen!
TOBV: Your artwork illustrates a well-travelled life. How many countries would you say you've travelled to? and are there any particular favourites?
AFR: Oh gosh, a lot, I always enjoy visiting new places but I also love to go back and see somewhere two or three times, if I can, to really get the feel for it. Morocco is somewhere I could go back to time and time again, it's so easy to get to and yet feels like an entirely different world. Last year I made a fleeting three day visit to Rwanda as part of a bigger design trip for Artisans & Adventurers and I have promised myself I will go back there. It was like visiting the Pyrenese but in Africa, everything was so hilly and tropical and yet it felt somewhat European. Portugal is also somewhere I would like to spend some more time, the people in Lisbon are so friendly and it's a melting pot mix of different cultural influences. It's also just such a relaxing place to visit, somewhere you can go for a proper break plus have your fill of culture. Jaipur, one of my other favourite places to travel to this is the complete opposite to this, I wasn't sure if I liked it at first, everything was so loud and fast but now I'm completely hooked and some of my favourite pieces in the forthcoming exhibition have been inspired by my travels there.
TOBV: Your artwork seems to capture a distinct moment in time- that's what we really love about it! With that in mind, do you ever revisit your painted places? Do you ever feel a marked difference?
AFR: Thank you. My work is a mix of moments in time, memories of that time and also my mood when I put the final composition together. Someone might just pop up in a window playing the guitar in Bosa because I was thinking of my brother that day or I might have a flash back to a cheeky cow climbing some stairs from a different part of my trip to India that will suddenly walk into the frame during the Jaipur Kite Festival. So in a way these moments in time are enriched with other experiences and couldn't be the same again. Somewhere I would like to revisit that I painted for this exhibition is the rooftop in Fes as that composition has remained exactly how I first drew it, cat included! I like to think I would feel really relaxed sitting in that spot again, it would be interesting to capture the same scene at a different time to see how it changes on the page. Perhaps I can go there again soon so I can better answer your question!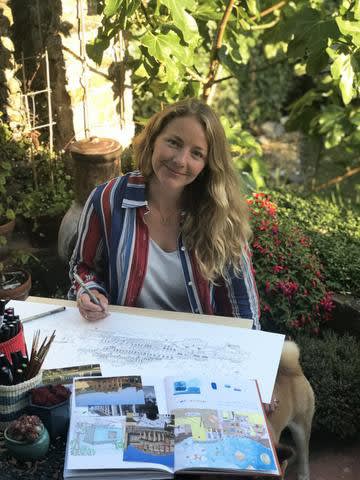 AMY IN HER GARDEN PAINTING
RSVP to join us at Amy's exhibition 'The Travel Diaries' where we'll be serving up a taste of modern Mexico with El Rayo's tequila and tonic!