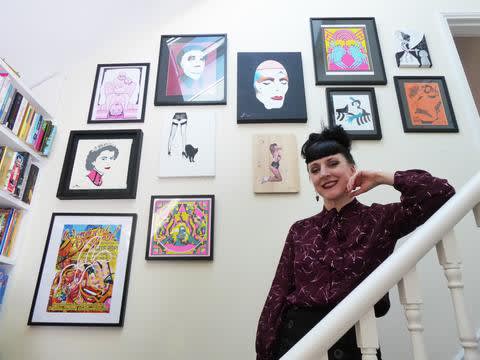 There's no denying that many of us have a penchant for peering a little too hard into the homes of others when given the chance, a seat on the top deck of a bus provides the perfect opportunity to peer over homes you otherwise can't see through to for the wrought iron gates. Evening strolls allow us to see living rooms lit up from within revealing book collections and artworks, flicking through interior magazines and scrolling through endless Instagram posts with the hashtag #interiorgoals is the pass time of choice for many of us.
Looking into the homes of others satisfies our humanly urge to know more about other people. Our homes say so much about us and so through looking into the homes of others we too know more about them.
We launched the Beyond The Vault series as the perfect excuse to have a good old nosy around the homes of our beloved artists, we speak to them about their art collections and what drives them to purchase the pieces they have, the importance of having a space that is visually stimulating and a whole lot more!
This week we feature Michelle Mildenhall known for her erotic art style.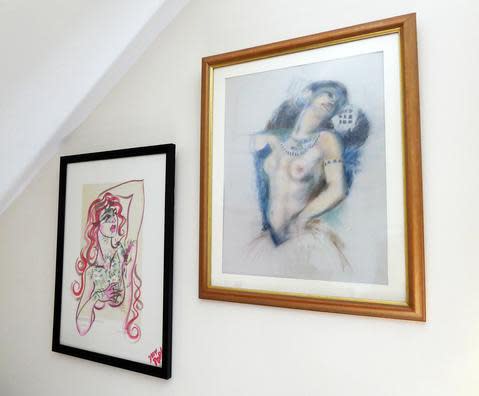 Left to Right: Dave Pop, Jo Christie
TOBV: Hi Michelle! Thank you so much for letting us have this (virtual) snoop around your home!
MM: You are very welcome! I love a good old snoop myself!
TOBV: We see you have a very eclectic collection of artworks. What are the top three things you consider when buying art?
MM: A piece of art has to really catch my eye, for me it's all about finding something that makes me stop and stare, something that I have a connection with and that I love.
TOBV: How long have you been collecting art for?
MM: The first piece I collected was from a crazy old local potter called Ozzie Newman. It was a handmade vase and was given to every child in Ramsbury the village I grew up in, to celebrate the Queens Silver Jubilee. I was 1 years old at the time and my mum kept it and gave it to me when I was a little older, so I've actually been collecting art for over 30 years and the vase still takes pride of place
I use to go and visit Ozzie on a Wednesday and spend the whole day with him learning to throw pots... I was actually thinking of becoming a Potter... And now I'm just potty!!!
TOBV: What a great story! It has us trying to remember what the first piece in our collection was!
TOBV: We love the art wall on the stairs! How did you build this? Did you have all the pieces before you arranged how to hang them or does the art wall grow organically as and when you find pieces to add to the collection?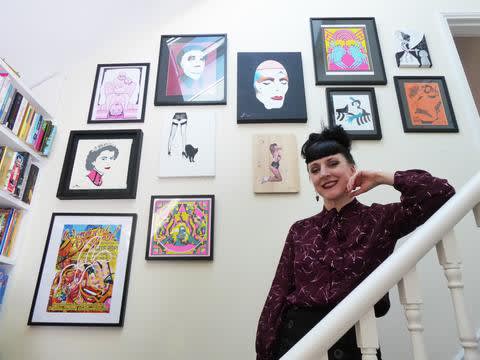 Artwall featuring artworks by Dave Pop, Grande Dame and Tom Bartlett. Six of the above artworks are by Michelle Mildenhall - can you guess which ones? (see end for answers)
MM: The art on the stairs has been an ongoing project for a few years now. I am always on the look out for erotic art, which fits the theme of the wall. I love adding to it and seeing how the collection develops and how each piece sits next to one another. Six of the pieces up there are actually pieces I've created, although some of the pieces you wouldn't necessarily know was my work as it's not in my usual style. I often create art purely for myself to see what I am capable of doing and push my boundaries. I wonder if you can guess which ones I created?
TOBV: oooohh that's a challenge! It's great to hear you are always pushing your boundaries, we would never have guessed that six of the artworks were yours! We will have a stab at guessing them later ;)
TOBV: Do you have a favourite artist?
MM: I adore the work of Aubrey Beardsley. He manages to combine elegance alongside such grotesque perverse erotica, he's a genius. His graphic black and white style has had a huge influence on me for as long as I can remember. I had tickets to go and see the exhibition at the Tate but unfortunately it got cancelled due to the Coronavirus.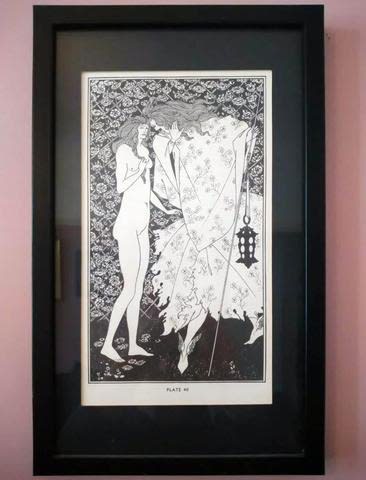 Artwork: 'The Mysterious Rose Garden' by Aubrey Beardsley
Ahh that's annoying - hopefully you are still able to check it out once things have calmed down a little! We can't wait to get back into galleries and get some new inspiration! We were particularly looking forward to 'Renaissance Watercolours: From Durer to Van Dyk' which has sadly been completely cancelled!
TOBV: What does having art in your home mean to you and how does it effect your creative process?
MM: I love surrounding myself with art. I have it in every room, art enriches my life, inspires me and most importantly makes me very happy.
TOBV: Thank you so much for having us Michelle!
MM: Absolute pleasure! You are more than welcome to pop back anytime time to see how the collection evolves.