There's no denying that many of us have a penchant for peering a little too hard into the homes of others when given the chance, a seat on the top deck of a bus provides the perfect opportunity to peer over homes you otherwise can't see through to for the wrought iron gates in Hampstead. Evening strolls allow us to see living rooms lit up from within revealing book collections and artworks in Holland Park, flicking through interior magazines and scrolling through endless Instagram posts with the hashtag #interiorgoals is the pass time of choice for many of us.
Looking into the homes of others satisfies our humanly urge to know more about other people. Our homes say so much about us and so through looking into the homes of others we too know more about them.
We launched the Beyond The Vault series as the perfect excuse to have a good old nosy around the homes of our beloved artists, we speak to them about their art collections and what drives them to purchase the pieces they have, the importance of having a space that is visually stimulating and a whole lot more!
This week we feature Heath Kane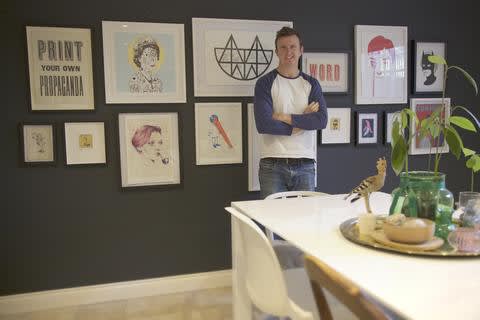 TOBV: Do you seek out a personal relationship with the artists you invest in? Or do you prefer to keep some distance between yourself and the artists you choose for your private collection?
HK: It's important to have a connection with the artist, almost more than the artwork itself - or at least it is for me these days. All the pieces I display throughout my house are either 'swaps' or bought from artists that I have worked with or have a strong affiliation for.


TOBV: Do you impulse buy or is every purchase thoroughly considered?
HK: Probably both. It's great to find those moments when you find something that steals your attention and you know you just want it. Equally, it's good to consider what kind of artwork you want to buy and then having to decide; where in the house it will go?, will it fit?, does it work with the other pieces in the house?, what does it say about me? … Everyone will have their own reasoning. At the end of the day buy artwork you love. Never buy artwork from someone who tells you to buy it for investment purposes.
TOBV: Does your collection have a theme? If so what is it and what draws you to that?
HK: Not really. But I do like political art (there's not enough really good political art). I also like art that is rebellious and edgy - art that says "fuck it!" I did it my way. But as mentioned before, I tend to have artwork from artists who I really like and have a strong connection with. I guess if there were a theme it would be on my bond and relationship with other artists who I admire. When people come to my house I like to talk about the artists perhaps more than the work I have hanging.
TOBV: Do you have a favourite piece/artist?
HK: All my pieces in my collection is special, I love them all. If I had to narrow it down to a few of my favourites, it would probably pick a large piece I swapped with Paris 68 Redux which has "Halt Brexit" printed over an old National Geographic European map and a sculpture of a bronze peeled banana by James Howden.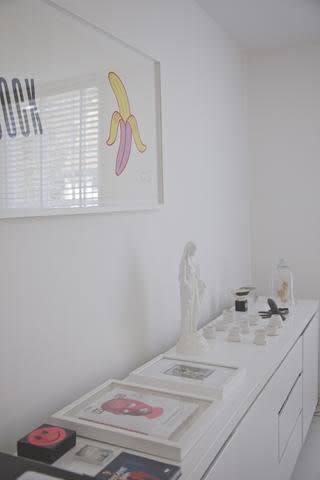 TOBV: What would your advice be to someone investing in their first piece of art?
HK: Don't invest in art. Buy art that you fall in love with. If it means something to you, that should be all the value you need.